In drawing 2 you will become more independent in your study, choosing the subject and eventually choosing the topic and your entire research base yourself.

1. SAME SAME BUT DIFFERENT
You will discover how even when the same image is used, the mood and interpretation can be completely different when you change the techniques in which the media is applied.

2. ANIMATING GOWTH
Here you will practice drawing organic objects, using the art elements: line, space, value, form, texture, colour and space, to build refined detail using both pencil and pen. The entire process will to photographed at every stage and put together to create a short animation.

3. POINT OF VIEW
Here you literally study objects from different angles and from different distances. You will study cubism and apply this to your process creating a more abstract drawing.

4. PERSONAL PROJECT
Now you are asked to utilize the skills you have learnt in the previous topics. This time your subject, media, style and size in which you work is completely your choice.
Powered by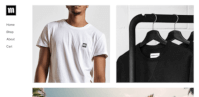 Create your own unique website with customizable templates.