Love the strange and beautiful? Check out the posts for some really extraordinary works of art.
Art inspiration
I absolutely feel in love with this photography.

"For

years

, artist and photographer

Fong Qi Wei

has been skillfully slicing photographs into awe-inspiring scenes showcasing the passage of time. Known as "time slice" photographs, each work of art combines several photos taken at different times of day to produce a single, strikingly cohesive composition.To create each piece, Wei snaps several photographs of the same location over a period of several hours. He then digitally divides the images and extracts a single strip from each. Finally, he pieces together these strips, creating a harmonized scene that beautifully depicts a range of time."

Please view more amazing works at this website

https://mymodernmet.com/time-slice-landscape-photography-fong-qi-wei/
Powered by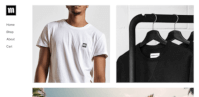 Create your own unique website with customizable templates.