Tasks for this projects
1. History of Movement within Art
Talk about the different forms of movement (kinetic sculpture, moving image, futurism, constructavism, eye traveling around a static image, op art....etc). be sure to talk about Muybridge and Duchamp, important leader in this topic. DONT FORGET TO REFERENCE
2. Artist Analysis
An in depth analysis page, going through the questions giving and studying the image at depth, with an interpretation. Refer to Duchamp or/and Muybridge as you talk. What things do they have in common with your artist. DON"T FORGET TO REFERENCE
3. Stop-motion video Technique and Experimentation page
Include stills of your video. Explain how you used the different software. Reflect on what was successful and what needed improving. talk about what ideas you get.
4. Filters/Adjustments Experiments
Take single images from you video and play with different editing software, change and adjusting a single image. You should have at least 6 different experiments and you should talk about the different mood/feeling created by each one. Write a final reflection explaining which you may apply to your next video and why you'd want the mood to be like that.
5. 2nd Movie Page
Again, include stills of your second movie, explain what you've done differently and what you are communicating. Reflect on successes and failures suggesting ideas for improvement. Show the filters and adjustment effects you've used to create your chosen mood.
6. Culture connection page
Carry out a further investigation that links your movie to a certain culture, tradition, habit, something personal. This could include newspaper or internet articles, research symbolism of certain objects, the history of the objects you're using.. Anything that can give more depth and value to your final video. DONT FORGET TO REFERENCE
7. Final Video Idea page
Here you are bringing all your research and reflections together. Your original idea should have developed and transformed to include cultural references, symbolism, mood and feeling. Write down this new final idea, draw how it could look and explain the process in which it will be made.
8. Video Evaluation
Reflect, ponder, think-back.
Do you think you have been successful? Successful meaning; connecting culture, personal work, symbolism, mood and feeling?
Do you think you communicate your idea well?
Can you generate an interesting conversation amongst your peers?
What do people say when they see it?
Have you followed your plan? Did you change anything?
Is there things you still need to improve and what would you do to improve?
Do you have an idea for another studio work from this project?
about how the brain PERCEIVES movement
making a short animation in photoshop
The link below will take you to a website describing how to create layers and select those layer on or off to make slides for an animation. It's quite simple once you know how and in photoshop you can make, by far, the most expressive and creative works
imovie instructions
mobiles

optical art

Futurism

Questions to develop a technique
- What is the theme explored?
- How does it link to your video?
- How does it explore the theme of movement?
- What is the most successful element?
- Which part has been unsuccessful and why?

Make another technique page using the most successful element.
Here are some ways in which to explore further:
- Same technique different media (For example: The have made an op art image with black pen, now you will make it with black ink or paint or collage or with a 3D medium...)
- Different colors
- Different subject (For example you drew a horse before, now you will draw a dog)
- You could scan or photograph you work and the digitally manipulate the image
- Turn it into an anmation
Here's an example of students developing their techniques in their IWBs
Powered by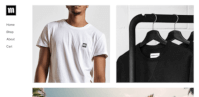 Create your own unique website with customizable templates.