Visual Balance and unity
inside out
Objectives:
· Actively participate in a discussion about images seen in the media and popular culture today and their significance to our lives.
· Create a collage that documents our contemporary lives using layering techniques, juxtaposition, emphasis and color.


In the project you will:
Choose a personal theme to do with inside out. Something that visual interests you.
Brainstorm ideas, visually and choose objects
Use pinterest to gather more ideas
Describe how balance and unity are created in 3 chosen artworks based around your topic
Pencil drawings with tone and contrast of insides of chosen object
Charcoal drawings on the pages of an old book
Soft pastel blending on black/brown
Water colour experiments, paint splattering
Dry point acrylic on different backgrounds, creating a balanced feel with simple shapes and lines
Ideas for final, combining 2/3media
Final Design Page
STUDIO WORK - Use a collection of personal items based around your topic, dissect them to study and create a collage work that combines; collage, fractured planes, multiple view-points, soft-pastels, charcoal, water color and or acrylic. Your fous should be on how you balance and creating a unity in the art.

What is unity and balance?

the theme: Inside out

Basically, this means, what's on the inside?

choose

Choose a sub theme from the following topics:
- Fruit and Veg
-Machines and technology
-Emotions
-The Human Body
-Or try combining 2 of the above

identify
Choose 3 art works, based around your chosen theme, and talk about how the following are used:
-Balance
-Unity
-Contrast
-Emphasis

Famous Mixed Media Collage Artists/good examples of design elements

Kurt Schwitters
Robert Rauschenberg
Pablo Picasso



Kyle Moster
Nick Gentry
Rex Ray
Kandinsky
Alexander Calder
Hannah Hoch
Ray Johnson
plan
Plan:
· Brainstorm ideas for your collage.
· Write a statement of intent. (A sentence that explains your idea.)
· Sketch out an ideas for your, brain storm words, for your mixed media collage in your sketchbook.


A traditional start

You'll need to find an object to draw. Self portrait - a photo. Body parts - Science skeleton Food- Well that's easy Emotions - which emotion? Is there an object that could represent that? or can you combine it with another sub-topic. Emotion really needs to go with something so you have a base.

try something new

create contrast

add emphasis

Using collage to draw on
KURT SCHWITTERS
German painter, sculptor, designer and writer. He was a clerical officer and mechanical draughtsman during World War I. At first his painting was naturalistic and then Impressionistic, until he came into contact with Expressionist art, particularly the art associated with
Der Sturm
, in 1918. He became associated with the
Dada
movement in Berlin after meeting Hans Arp, Raoul Hausmann, Hannah Höch and Richard Huelsenbeck, and he began to make collages that he called
Merzbilder
. These were made from waste materials picked up in the streets and parks of Hannover, and in them he saw the creation of a fragile new beauty out of the ruins of German culture. Similarly he began to compose his poetry from snatches of overheard conversations and randomly derived phrases from newspapers and magazines. The word derives from a fragment of the word
Kommerz
, used in an early
assemblage
(
Merzbild
, 1919; destr.; see Elderfield, no. 42), for which Schwitters subsequently gave a number of meanings, the most frequent being that of 'refuse' or 'rejects'. In 1919 he wrote: 'The word Merz denotes essentially the combination, for artistic purposes, of all conceivable materials, and, technically, the principle of the equal distribution of the individual materials …. A perambulator wheel, wire-netting, string and cotton wool are factors having equal rights with paint'; such materials were indeed incorporated in Schwitters's large assemblages and painted collages of this period, for example
Construction for Noble Ladies.
Choosing a color palette
Complimentary

When you mix

two opposites together anywhere

on the Color Wheel, the result becomes increasingly neutral.

Blow see Red and Green. quickly the brightness of each gets dulled down. On the bottom row, I've added a little white to demonstrate how you can easily achieve a lovely range of

neutrals without using black.YELLOW + VIOLET / PURPLE = WARM GRAYBLUE + ORANGE = COOL BROWNRED + GREEN = WARM BROWNKnowing this little trick

with complementary colors is really valuable when you have paint colors that are a touch too bright but you don't want to change them too much. Adding gray (black + white) as we have with other

Color Schemes

can flatten your color. Instead, by simply adding a

tiny drop

of the Complement, you can

get a more neutral version of the original.

Analogue and a Complimentary

Here,

Violet

is selected as the main

'Mother Color'.

On either side of the Yellow directly opposite Violet in the

Color Wheel

is Yellow/Green and Yellow/Orange. They are shown on the top row. The cleanest, loveliest paint mixtures will be achieved if you

mix your own Yellow/Green and Yellow/Orange using the same Yellow

for both.

By adding a

tiny bit of Violet

to the two top paint colors you get some interesting results.

Violet

+

Yellow/Green

= Olive


Violet

+

Yellow/Orange

= Burnt Orange


Violet

+

Yellow/Green

+

Yellow/Orange

= Neutral Brown

Notice how the

3 mixtures on the bottom row work so well together

. There's never any clashing with this method.

Of course you can then

alter each of these even further

by adding White, Black or Grey. Add more of the three hues too if you begin to lose the color. As long as you stick with the same three and don't add any other

Hue,

they will always go together.

Square Tetrad

Here our color palette is

Red, Green, Yellow/Orange

and

Blue/Violet.

Notice the two pairs of Complementary Hues.

Red is the dominant Mother Color

and placed in the middle. Pure Green, Yellow/Orange and Blue/Violet are shown on the top row.

By

adding a tiny bit of Red

to the three paint colors on the top row, you'll get some interesting results which you can see on the bottom row. The original harshness of the colors

harmonize

and

become a 'family'.

If you add more red to each the colors will change even more.



Green + a little Red = Dull Khaki Green
Yellow/Orange + a little Red = Intense Orange
Blue/Violet + a little Red = Burgundy

The Neutral Brown in the middle row on the right is a mixture of all four starting colors.There's no guesswork as to which neutral to use, because all these colors are part of a blended family.

Even though the mixtures on the bottom row no longer clash, they're still a bit challenging to balance. That intense orange will need to be used in small doses to keep from overpowering the other more subdued mixtures. It will help to add white to lighten, black to darken and grey to tone down brighter paint mixtures a create a broader range of colors.

Monocromatic

Take any

one

of the twelve Hues from the Basic Color Wheel and repeating it in various Tints, Shades and Tones.

You would be surprised how many variations, both obvious and subtle, can be achieved from just one color. This monochromatic color scheme approach is actually considered very

sophisticated

and usually creates a

calming

effect.

here, pure Orange paint and mixed a little of the following pigments to quickly create these eight colors.

some white to get lightest Tints
tiny drop of black to get darkest Shades
a little gray to Tone things down
more Orange to increase color
ACRYLIC PAINTING TECHNIQUE
making that studio work
Final Assignment -
Create a mixed media, collage based on the theme INSIDE-OUT. You will have chosen a detail from that theme at the beginning : human body, fruit etc etc.

You should use all media, you've experimented with throughout the project and a variety of surfaces to apply media to.

You will be asked how you have considered BALANCE AND UNITY
Powered by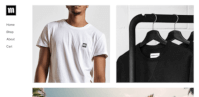 Create your own unique website with customizable templates.