Get off to a good start by creating exciting, unique and well informed research pages
Making your research pages - whats on them?

Research and investigation is a vital part of the High School and IB curriculum in Art. To fulfill this component of the course, you will be asked to design Research Pages for every unit that we study. Sometimes it will be about a specific artist, artwork, or genre. Your page should be

well designed and presented in an interesting format

in your sketchbook, and should include the following information.

RELEVANT TITLE (ARTISTS NAME) FOR YOUR PAGE
PHOTOS OR DRAWINGS OF THE ARTWORK

ARTIST'S NAME AND TITLES FOR EACH ARTWORK YOU INCLUDE ON YOUR PAGE
DATES FOR EACH ARTWORK
YOUR VERSION OF THEIR ARTWORK


It should also include the following information:

FIRST IMPRESSION: Record your first reaction to the artwork.
DESCRIPTION: You want to come up with a list of everything you see in the work. Stick to the facts. Imagine that you are describing the artwork to someone over the telephone. This is a detailed section.
5 FACTS: These are bullet points. Where is the artist from? When were they born (and when did they die)? What art movement are they a part of? What other important information is relevant to their work?

ANALYSIS: Try to work out what the artist has done to achieve certain effects. What mood or feeling do you get from this work? How has the artist created this mood? Think about the techniques the artist has used (colour, shape, line, texture, tone, pattern and space). Do you like this piece of work – why / why not? What do you think this artist has worked particularly hard at while he/she did this work? What media has the artist used – write 3 things the artist has done well with this media
INSPIRATION: How does this artwork inspire your own ideas? Artists constantly look at what other artists are doing and get ideas for their own work. What ideas does the artwork inspire?


* please note, you SHOULD NOT write out these questions on your page, this is just a tool to help you gather and include good information *

more great examples

Powered by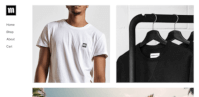 Create your own unique website with customizable templates.